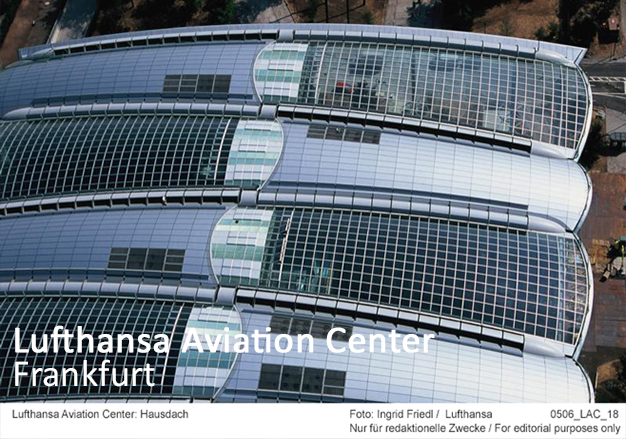 Lufthansa AG's new administration building is characterized by 9 light-flooded atria, each approx. 770 m² large. All facades, including the soffits, had to be provided with area-wide accesses not causing any impairment to the intense vegetation of the atria.
The external facades are subject to disproportionally thigh soiling on account of the adjacent motor highway, the ice track and the kerosene emission. Roof areas may not be stepped on for cleaning purposes due to the prevalent geometry.
Given that the roof is not walkable, an automatic cleaning system had to be developed, capable of both cleaning glazed and metal roof areas in equal measure.
Accessibility of all atria areas including all technical facilities and plants is ensured through mobile lifting platforms. To allow for unrestricted horticultural landscape planning, transport routes, deployment and operation zones for the lifting platforms were determined and specified in advance. Furthermore, as early as in the design stage, our engineers simulated in 3-d all of the operating processes and sequences, so that any possible collision points could be identified and eliminated beforehand. Upon completion of the building, this approach will allow the owner to position and operate with pinpoint accuracy all equipment used in the atria, despite the dense area occupation.

von Gerkan, Marg und Partner
basic evaluation, preliminary design, basic engineering, detail engineering, participation in the bidding, site supervision, engineering of an automated roof-cleaning system, Access & Maintenance Management (ZIM) / development of a maintenance strategy along with the corresponding documentation (operating manuals)